Course Code: APM01
Course Length: 3 days
INTRODUCTION
This course is introduced to individuals to the opportunities and challenges of monitor repairing. Participants will see how monitor repairing can be challenging, but they will learn how to address these challenges by employing appropriate tools and testing equipments to troubleshoot monitors. Through demonstration and hands on practices, participants will know how to use the right tools and test equipments to diagnose a monitor. This is an advanced course designed to provide a full understanding in troubleshooting and repairing monitor .
TARGET GROUP
The Advanced Practical CRT Monitor Repair Course is targeted at IT Managers, IT Engineers, IT Lecturers, Technicians, Technical College Students, Electronic Hobbyists, and Computer Owners.
COURSE OBJECTIVES
At the end of the course, participants will be able to:
Troubleshoot the Power Supply circuit.
Troubleshoot High Voltage Circuits.
Troubleshoot Horizontal Circuits.
Troubleshoot Vertical Circuits.
Troubleshoot Video (colour) Circuits.
Troubleshoot Cathode Ray Tube (CRT).
Troubleshoot Microprocessor and EEprom Circuit.
Troubleshoot Monitor Controls.
Use an oscilloscope to diagnose and repair monitor problem.
Use a Flyback Tester to check the monitor's flyback, switch mode power transformer, B+ and yoke coil's winding.
Use Blue ESR meter to check for electrolytic capacitor problem in a monitor.
Use high voltage probe for measuring the anode and focus voltage of a Flyback Transformer.
Use a Digital Capacitance meter to measure the internal capacitance of a flyback transformer.
Use an EEprom Programmer (Copier) to copy EEprom data of a monitor for troubleshooting purposes.
Use a CRT tester to check the condition of a picture tube.
Read the specification of a picture tube and find an equivalent tube for replacement purposes.
Use a light bulb to isolate monitor problem (power supply and B+ circuit problem).
Read Horizontal Output Transistor (HOT) and Field Effect Transistor (FET) specification and find a suitable equivalent number.
Diagnose and repair most of the monitor problem covering from 9", 14", 15", 17" up to 21" monitors and many more.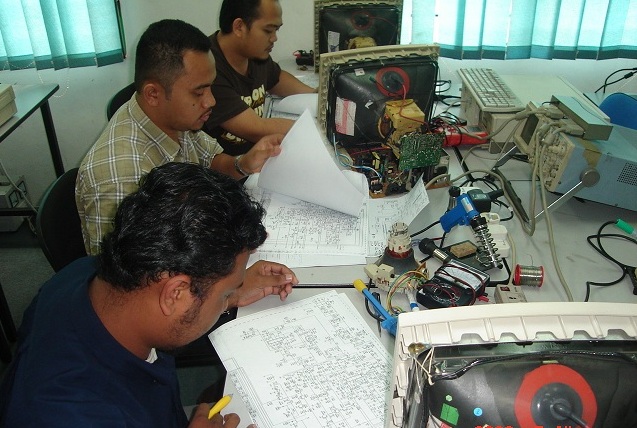 PRE-REQUISITES
This course assumes that the participant has a minimum understanding of the following competencies:
Working knowledge of at least 2 years in repairs of monitor, TV and CCTV
Or have completed the Basic Practical CRT Monitor Repair Course.
The course materials, lectures and lab exercises are in English.
(Upon request, the lecturer can conduct in Mandarin and Bahasa Malaysia)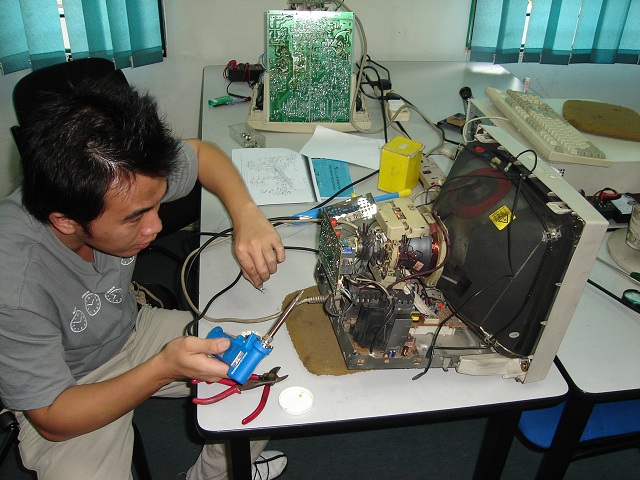 BENEFITS OFFERED
UPON SIGNING UP FOR THE COURSE, PARTICIPANTS ARE ELIGIBLE FOR:
1. Long term technical support by Noahtech through email and phone. You will never be left alone after the course.  Any CRT Monitor repair questions just call or email us.
2. A Participant Workbook which contains:
Overview of Computer Monitor Circuits
Explanation on safety measures.
Explanation on general and specialized test equipment.
Explanation on monitor circuits:
a) Power supply e) Video (colour)
b) High voltage f) Cathode Ray Tube (CRT)
c) Horizontal g) Microprocessor and EEprom
d) Vertical h) Monitor controls
How to use an oscilloscope to troubleshoot monitors.
How to use a light bulb to isolate power supply and B+ circuit problem.
A 17" digital monitor schematic diagram.
How to read HOT and FET specification and find a suitable equivalent number.
Typical components part number found in a modern monitor.
Illustration of monitor problems and suggested solution.
Monitor repairing tips.
Suggested technical reference books.
Technical Terms (Glossary).
3) Certificate of Attendance will be awarded upon completion of the course.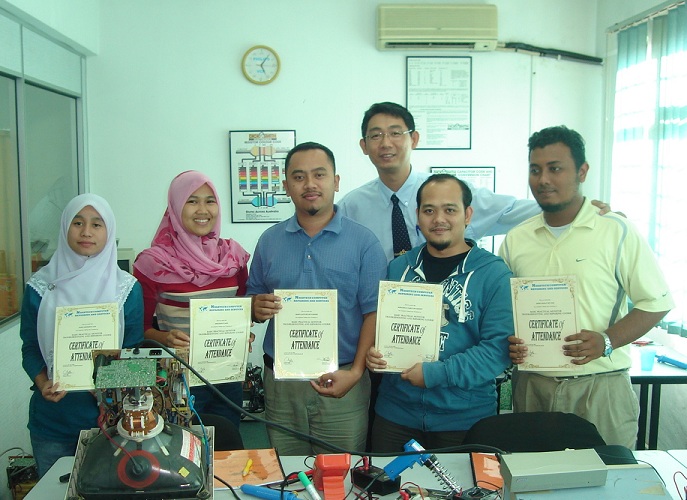 The workbook will be given when the workshop begins.
Course starts at 9.00am to 5.00pm
Click Here to print out the course outline or right click to save the file.

NOTE: For more information, inquiries and registration please contact us HERE.