LCD Monitor Repair Online Certification and Skill Testing for Individuals
Welcome to Noahtech Electronics Training for LCD Monitor Repair Online Test.  What better way to demonstrate your knowledge, skills and expertise to prospective employers and greatly boost your chances of moving ahead in your career by participating in LCD Monitor Repair Test. Special tailor made by Mr Jestine Yong, well known contributor in electronics repair field and author of many electronics repair ebook such as LCD Monitor Repair, Switch Mode Power Supplies, Testing Electronic Components, How To Find Burnt Resistor Value and many more. Passed this test and you will be awarded with a hard copy certificate and your ID number, name, country, date completed and grade will be published in our website thus verified your certificate is genuine.  This certification is suitable for students, professionals, job seekers and companies.
Taking this highly recognized certification is an excellent way for you to prove your professional prowess to employers while giving a boost to your resume.
Below is the sample of Certificate you will be receiving once you have passed your online test.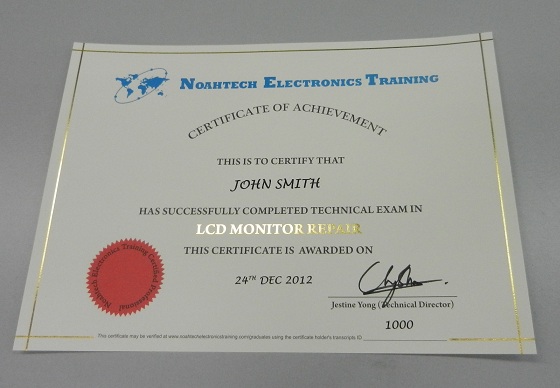 Details of the LCD Monitor Repair Test are displayed below. To take this test, scroll down to the bottom of the page and click on the appropriate link.
LCD Monitor Repair Online Test FAQ
This FAQ attempts to answer frequent questions related to LCD Monitor Repair Online Test. In case you are unable to find the answer to your question, Kindly contact William here and we will get back to you as soon as possible
1. When can I take the test?
Anytime upon making purchase of the LCD Monitor Repair Online Test. It is valid for 90 days from the date you made the purchase.

2. How do i take the test?
Just follow these steps
a. Scroll down until you see "Yes I'm Ready To Take The Test Now!"
b. Click "Take LCD Monitor Repair Online Test"
c. Make payment using Paypal
d. After making payment, you will be automatically diverted to Log in or Register page.
e. Click Register and fill in your username and email and sent to us by clicking on the Register button.
f. You can take the test by using the link, username and password which will sent to your mail inbox after you have registered. Sometimes it could landed on junk/trash inbox so please check your junk/trash inbox also.
3. What so i get after taking the test?
You will be awarded with a high quality hard copy certificate.
2. How will I get the certificate?
We will ship your certificate using Registered mail
3. When can I get the certificate?
We will send the certificate to you within 1-2 weeks after the test date. It will takes 3-4 weeks for the delivery depending upon the country you reside in.
If you are in hurry to receive your certificate, you can order it through FedEx or DHL by paying for the express delivery charges. For more information, please email to jestineyong@electronicrepairguide.com

4. How many question I have to answer?
25 objective questions
5. Can i see the answers to the questions after completing my test?
No
5. What is the duration of the test?
45 minutes
6. What is the scoring marks to determine my grade?
One question correct is 4 marks. Your grading is as below:
Excellent- 80 to 100
Good-      60 to 79
Pass-        52 to 59
Fail-          0 to 51
7. What type of Electronics question will be given in the test?
Basic Electronics and LCD Monitors Repair questions.
Note: If you are not familiar with Basic Electronics, I suggest that you get the Testing Electronic Components ebook first to prepare yourself before taking the test.
8. Could I see some of the samples of the test questions?
There are 4 answers to choose from (a to d). You need to choose the best answer. Here are the the typical questions:
What is the value of the capacitor with the marking of 104 ?
a) 10uf
b) 100uf
c) 0,1 uf
d) 0,01uf
Which one is the  common part number for EEPROM IC found in LCD Monitor mainboard?
a) 25L1005
b) 24C08
C) 95C66
D) 95C46
9. When can I take the test?
Once you have studied the LCD Monitor repair and Testing Electronic Components ebook and feels that you have the confident, you can take the test anytime. Just click on the order button in the below page (USD69.00) and you will be taken to a special page where you can answer the test questions.
10. If I'm not satisfied with the result or fail in the test can I resit for the test?
If you are unable to pass the LCD Monitor Repair Test or you wish to improve your score, you may re-take the test by paying USD49.00 only. Please email jestineyong@electronicrepairguide.com for more information.
11. What are the benefits of taking the LCD Monitor repair online test?
By gaining certification you not only have a hard copy certificate to prove your skills, it will be an added advantage going for an interview and to land a repair job.
Your details will be included in the Noahtech Electronics Training website at http://www.noahtechelectronicstraining.com/graduates

  

thus your employer will know that you have sit for the test and not a fake certificate that bought from some other places. In other words your employer could verify the certificate that it is indeed genuine.
Certificate is presented by a reputable company (Noahtech was established since 1996)
 Yes I'm Ready To Take The Test Now! 
 1) Take LCD Monitor Repair Online Test (USD69.00)
2) No thanks, I just want to buy the LCD Monitor Repair Ebook (USD29.95)- Click Here
3) To resit for the LCD Monitor Repair Online Test(USD49.00)- Please email jestineyong@electronicrepairguide.com
Note:
Other payment options like using Western Union and Money Gram can be made available in special cases. For any inquiry please email jestineyong@electronicrepairguide.com
Detailed instructions relating to the testing procedure for the LCD Monitor Repair Test are provided inside the login account before the start of the test.
NoahtechElectronicsTraining follows a strict policy of never misusing or giving out the email addresses and other contact information of its users.
You need to sit for the test within 3 months from the date of purchase otherwise it will automatically expire. Refund will not be entertain.
If you have any question please do email me at jestineyong@electronicrepairguide.com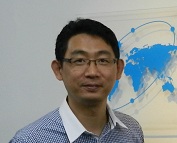 Jestine Yong