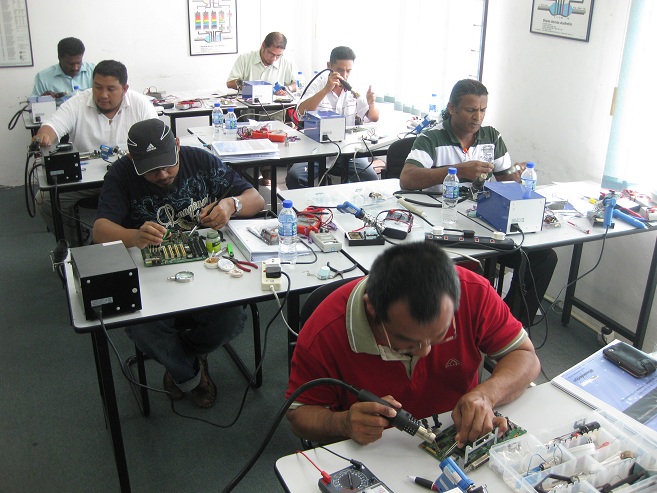 Course Code: AER01
Course Length: 3 days
INTRODUCTION
This course is tailored to individuals who wish to learn the Advanced Repair Techniques in Electronics Troubleshooting.
Who Should Attend This Course?
The Advanced Electronics Repair Course is targeted to those already have few years experiences in electronics repair and had completed the Basic Electronics Troubleshooting And Repair Course. They can be IT Managers, IT Engineers, IT Lecturers, Technicians, Technical College Students, Electronic Hobbyists or Computer Owners.

Benefits After Attending This Course:
After you have attended this course, you will be able to:
Understand how Switch Mode Power Supplies (SMPS) Work-(Flyback Converter Topology)
Read SMPS Schematic Diagrams and able to recognize all the different sections (hardware) in power supplies confidently.
Understand why a power supply will have decreasing/increasing (unstable) output voltage and power blink problem the moment you turn it On.
Understand why the output measure good but the power supply immediately shutdown when the load is connected
Start to troubleshoot a power supply with no blown parts
Use DC ammeter, light bulb and Flickering method to isolate power supply problems thus speeding up the repair process.
Check/test if the high frequency transformer (power transformer) is good or bad with the use of a special test equipment.
Find replacement or substitution part number for SMPS components.
Know Where to Buy Power Supplies Parts Locally and Online.
How to Modify SMPS that was hit by lightning, parts burnt beyond recognition, missing components and etc (applicable to less than 80 watt power supplies only) and make the power supply to work again.
Perform critical voltage testing points on power supply with Power On.
Read Mainboard schematic diagrams
Understand How Micro Controller Unit (MCU), EEprom IC and Flash Rom IC function.
Use Smart Tweezers to check faulty SMD components
Use a 100Mhz Digital/Analog Oscilloscope to perform critical waveform checking on mainboard with power On.
Use a simple EEprom/Flash Rom Programmer (Copier) to copy EEprom/Flash Rom data for troubleshooting purposes.
Use a Rework Station to extract and solder SMD/Spider ICs on circuit board
To trace shorted component  in mainboard with the help of DC Power Supply.
Locate intermittent problem in mainboard by using hot air and coolant/Freezer
Locate components that are going to burn/short circuit by using a heat checker device.
Use Huntron tracker/Analog Signature Analysis (ASA) software/hardware device to compare identical circuit boards to locate faulty section or components
and many more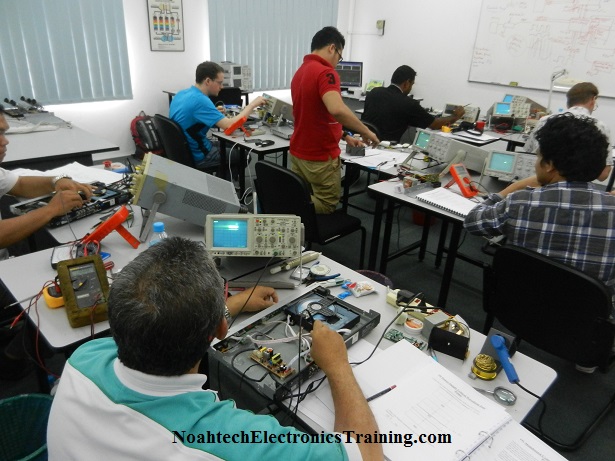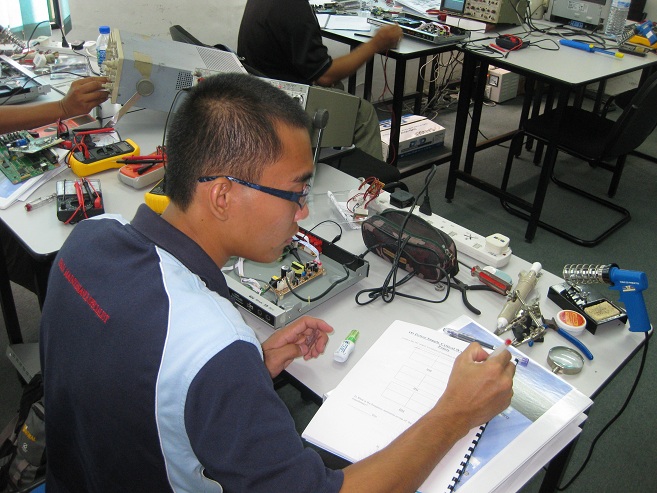 PRE-REQUISITES
Completed the Basic Electronics Troubleshooting And Repair Course
Or must have at least 3 years of experience in Electronics Repair
The course materials, lectures and lab exercises are in English.
(Upon request, the lecturer can conduct in Mandarin and Bahasa Malaysia)
BENEFITS OFFERED
UPON SIGNING UP FOR THE COURSE, PARTICIPANTS ARE ELIGIBLE FOR:
1. Long term technical support by Noahtech through email and phone. You will never be left alone after the course.  Any electronics repair questions just call or email us.
2. A Participant Workbook which contains:
Safety First
How to Discharge Capacitor
Tools And Test Equipment
Introduction to Switch Mode Power Supply
Identifying Electronic Components In Different Types Of SMPS With The Help Of Photos
Block Diagram Of A Typical SMPS and How It Works
Flickering Method/Light bulb/DC Ammeter
Understanding Mainboard And  EEPROM IC
Troubleshooting And Repairing  Mainboard
Troubleshooting The Microcontroller Circuit In Electronic Equipment
SMD Resistor Code
SMD Leadless Capacitors Code
SMD Transistor and Diode Code
Typical SMD IC Codes In Mainboard
How To Completely Tackle Intermittent Fault In Electronic Circuits
Understanding Oscilloscope
Power Supply Critical Voltage Test Points
Power Supply Critical Waveform Test Points
Mainboard Critical Waveform Test Points
3) Certificate of Completion will be awarded upon completion of the course.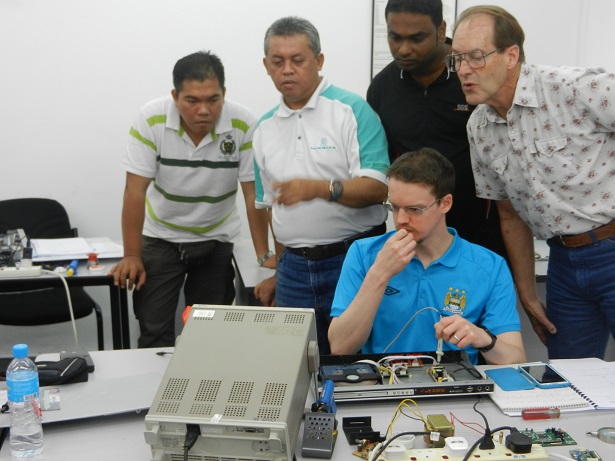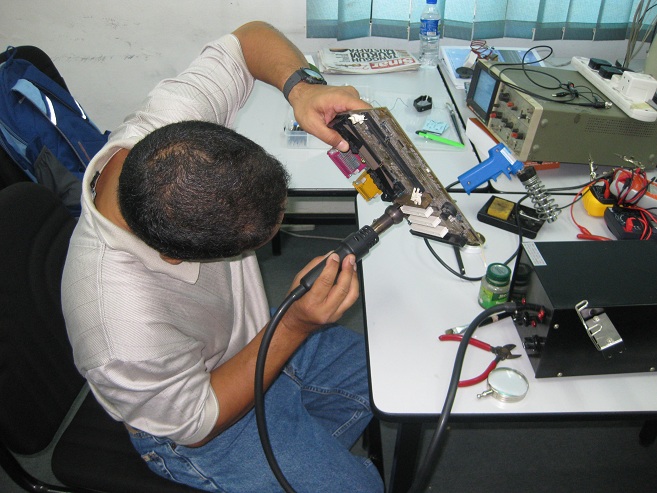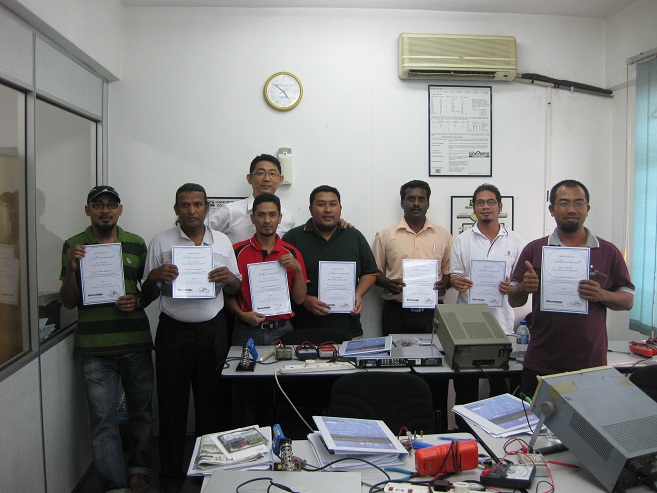 The workbook will be given when the workshop begins.
Course starts at 9.00am to 5.00pm
Click here to print out the course outline or right click to save the file.

NOTE: We limit only to 8 participants per class to maximize attention so book early to secure a seat and to avoid disappointment. Click here for the course schedule. For more information, inquiries and registration please contact us HERE.