GPS Coordinaat: N 03 degrees 11.653′ E101 degrees 36.373′
Please click on the below map to view details of the location: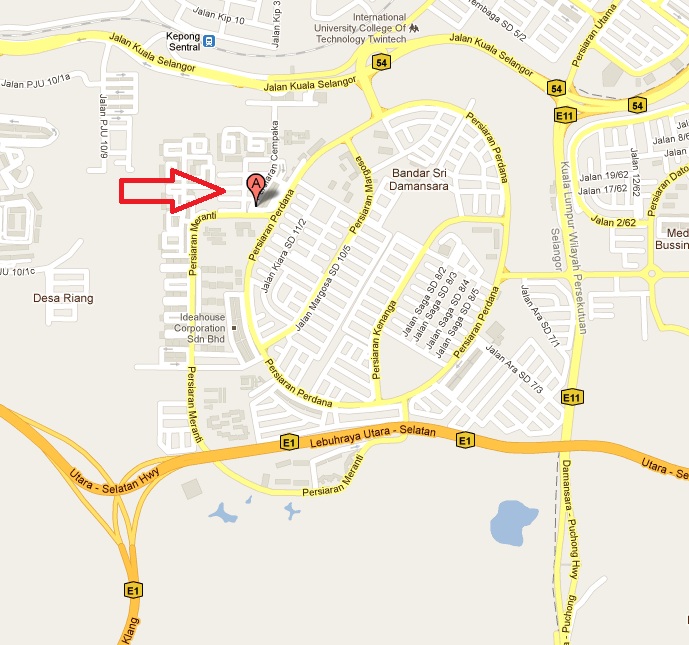 Once the course date is confirmed, you just need to book the hotel and buy the air ticket. Once you have reached the Malaysia KLIA international airport, you can take a taxi (approx: RM90) to the hotel and the next day you can come over to our premises and take the course. I suggest that you book the Sri Damansara Hotel because it is just a walking distance to our premises.
If you prefer to take a bus from the airport to Sri Damansara Hotel then you need to take a taxi from KLIA to KLIA2 airport. The distance between KLIA and KLIA2 is less than 2km and cost less than RM10.00. At KLIA2 you can take the Skybus to 1 Utama terminal. From 1 Utama you need to take a taxi to the Sri Damansara hotel. The taxi fares cost about RM15 to RM20.00
You may click on the Skybus website below to check on the bus arrival and departure time:
http://www.skybus.com.my/schedule/
Note: You can place an online booking to reserve a seat.
Direction From Sri Damansara Hotel to The Training center:
Coming out from the hotel main entrance walk left for about 50 meter. You will see a slope (going uphill) at the right side. Walk all the way straight (about 250 to 300 meter) until you reach a T-junction. Just before the T-junction at your left side  you will see the company sign board "Noahtech Training Center" (the fourth shop).
If you have other question please contact us HERE.