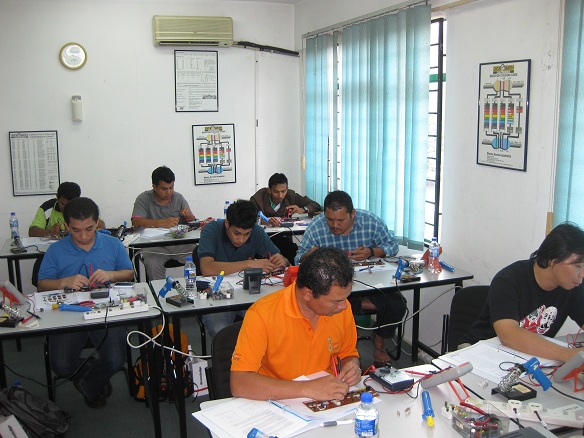 Course Code: BEC01
Course Length: 3 days
INTRODUCTION
This course is tailored to individuals who are new and have some experience in the field of electronics. There is no prerequisite eligibility are required , so almost any student that is not from technical background can easily join this Basic Electronics Repairing course.
TARGET GROUP
The Basic Electronics Troubleshooting And Repair course is targeted at SPM/STPM school leavers, Technical College Students, Technicians, Retirees, Electronic Hobbyists and those who are interested in Electronics Repair.         
COURSE OBJECTIVES
At the end of the course, participants will be able to:
Know the safety precautions when troubleshooting electronic equipment.
Assemble a fluorescent lamp.
Use an analog/digital multimeter to measure voltage, current and resistance for troubleshooting purposes
Differentiate between AC and DC circuit.
Remove and solder electronic components from and onto PCB board.
Identify and measure most of the basic electronic components so that you can start to troubleshoot any type of electronics equipment.
Read semiconductor substitution manual book and find components datasheet from the search engine.
Build 2 electronics project kits.
Design your own Linear Power Supply
Prepare to undertake the Advanced Electronics Repair Course, LCD Monitor Repair, Laptop repair or Basic Practical Printer Repair

PRE-REQUISITES
No prior knowledge required.
Able to understand simple Mathematics and English.
Have interest in electronics.
The course materials, lectures and lab exercises are in English.
(Upon request, the lecturer can conduct in Mandarin and Bahasa Malaysia)
BENEFITS OFFERED
UPON SIGNING UP FOR THE COURSE, PARTICIPANTS ARE ELIGIBLE FOR:
1. Long term technical support by Noahtech through email and phone. You will never be left alone after the course.  Any electronics repair questions just call or email us.
2. A Participant Workbook which contains:
Explanation on safety measures.
Diagrammatic explanation on how to assemble a fluorescent lamp.
Explanation on ohm's law.
How to use a multimeter to check AC/DC voltage and current, and resistance.
Explanation on functions, recognition, symbol , calculation and checking basic electronic components such as
Resistors
Preset/variable resistors
Diodes
Bridge Rectifiers
Capacitors
Fuse
Transistor NPN/PNP
Transistor FET N/P channel
Darlington Transistor
Horizontal Output Transistor
Intergrated circuit
Coils/Inductors
Zener Diodes
Transformers
LEDs
How to read semiconductor data book.
How to build electronics project kit.
Transistor data for 2SA, 2SB, 2SC, 2SD, 2SJ and 2SK.
CMOS IC HANDLING PRECAUTIONS.
Voltage Regulator 7800 and 7900 series specification.
The right test equipment to check the electronic components
Chart of electronic components schematic symbols.
Resistor color code chart.
Capacitor code and conversion chart.
Suggested technical reference book.
Technical Terms (Glossary).
3) Certificate of Completion will be awarded upon completion of the course.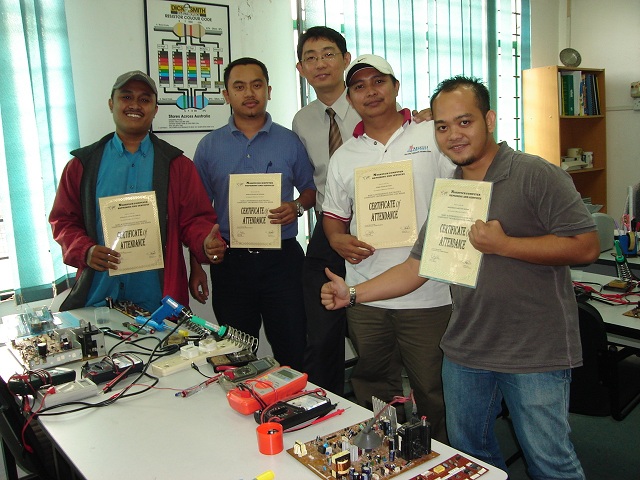 The workbook will be given when the workshop begins.
Course starts at 9.00am to 5.00pm
Click here to print out the course outline or right click to save the file.

NOTE: We limit only to 8 participants per class to maximize attention so book early to secure a seat and to avoid disappointment. Click here for the course schedule. For more information, inquiries and registration please contact us HERE.